IMPORTANT: CHARGES ON DATA USE
​Contact your provider to learn more about your options to buy and use data in the DOM (overseas departments and regions of France).
Guadeloupe (Gwadloup in Creole) is an archipelago (also known as the Butterfly Island for its shape) located in the heart of the Lesser Antilles arch in the Caribbean. It is bordered by the Atlantic Ocean and the Caribbean Sea. Guadeloupe is about 6,200 km from France, 600 km from South America and 2,200 km from the United States.
A part of the DOM, the islands of Guadeloupe are an overseas region of France. They are governed by the same laws and the same system (health, education, justice, etc). The spoken language is French even though Creole is widely used both spoken and written. The current currency is the euro.
GUADELOUPE IS COMPOSED OF 5 ISLANDS
GRANDE-TERRE
Right wing of the butterfly, Grande-Terre is a limestone island with a level terrain. It has a heart composed of green valleys, villages both authentic and touristic, and the cliffs, beaches and paradisiacal lagoons Guadeloupe is so well known for.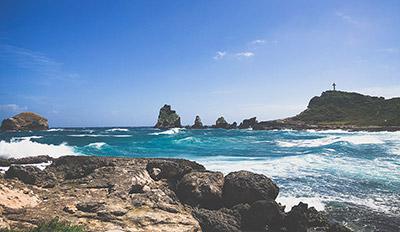 BASSE-TERRE
Left wing of the butterfly, Basse-Terre is a volcanic island, classified a reserve for the large part by the National Park of Guadeloupe, Basse-Terre hosts the volcano of Soufrière at its centre. Made up of magnificent rivers, waterfalls, and beautiful beaches with sand ranging from carmel to pure black.
Basse-Terre and Grand-Terre make up continental Guadeloupe, separated by a thin strip of sea about 200 meters wide, called the Rivière salée (Salty River).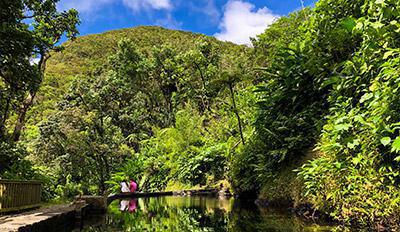 MARIE-GALANTE
Nicknamed both the 'Great Galette' for its flat terrain, and the 'island of a hundred mills' for the many of these vestiges of history still standing, Marie-Galante is an enthralling island rich with places to discover. The monuments, beaches, mangroves, walks, all make a visit to Marie-Galante one full of surprise and wonder.​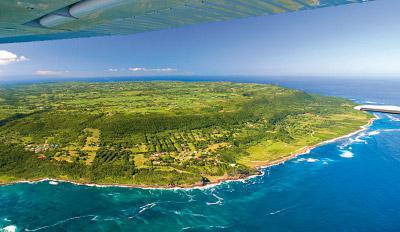 LES SAINTES
A little corner of paradise, Les Saintes are composed of nine islands, however only two (Terre-de-Haut and Terre-de-Bas) are inhabited. From beautiful beaches to dives with colorful fish, visit Les Saintes to share in moments of discovery and delight!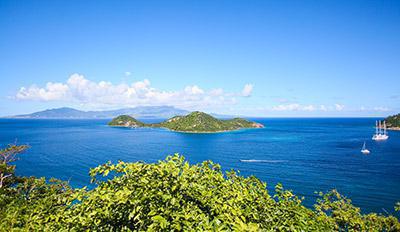 LA DÉSIRADE
A small island just east of Grande-Terre's Pointe des Châteaux, Desirade is a cozy nest, full of history and breathtaking landscapes. The Petite-Terre reserve is administratively linked to Desirade and full of surprise.
These three islands, Marie-Galante, the Saintes and Desirade are commonly called Les îles du sud (The South Islands).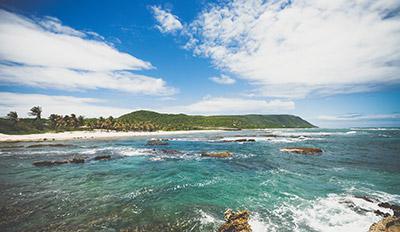 ---
GUADELOUPE STATISTICS
County code: 971
Number of communes: 32
Population: 405,739 (2013)
Density: 249 inhabitants / km2
Area of Archipelago: 1 628 km2
​Area of Continental Guadeloupe: 1434 km2
---
PRACTICAL INFORMATION
Administrative: Overseas departments and regions of France (DOM)
Law and justice: France
Spoken language: French and Creole
​Currency: Euro (€)